How much does it take to earn a year to be considered rich in Dallas?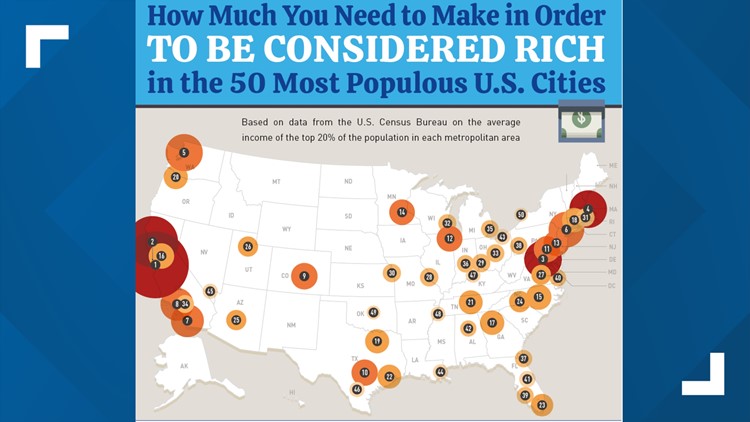 A new study has revealed what salary is needed to be considered rich in the 50 largest US cities. In Dallas, you will need more than four times the average annual salary.
DALLAS. With the cost of just about everything going up in the last couple of years, a lot of people are feeling a bit of a quandary.
According to ziprecruiter.com, the median annual salary for Dallas residents in 2022 was $65,289, and those salaries are no longer as high as they used to be. While many families struggle to pay their bills, dreams of becoming rich seem out of reach.
In fact, according to research by the Madison Trust Company, to be considered rich in Dallas, you would need more than four times your $65,000 salary.
They came up with the annual salary needed to get rich in the 50 largest US cities, based on what the richest 20% of residents earn. Housing markets, food prices, taxes and transportation costs can play a role in how much you need to earn in each city.
Dallas is in the top 20 of the list, coming in 19th with a salary of $265,858.
Houston is roughly in the middle of the rankings and ranks 22nd with $260,958.
Austin is the only Texas city in the top 10 with a salary of $288,453.
The only other Texas city on the list is San Antonio, which registered in 46th place with a salary of $220,114.
The city at the top of the list is San Jose, California. where you need to earn over $500,000 a year to be rich.
Here's how the top 25 cities came together:
San Jose: $500,341
San Francisco: $442,934
Washington DC: 353,350
Boston: $353,292
Seattle: $346,862
New York: $340,209
San Diego: $303,546
Los Angeles: $302,890
Denver: $292,305
Austin: $288,453
Baltimore: $286,736
Chicago: $279,943
Philadelphia: $279,362
Minneapolis: $275,185
Raleigh, NC: $273,011
Sacramento: $271,415
Atlanta: $267,747
Hartford, Connecticut: $267,012
Dallas: $265,858
Portland: $265,594
Nashville: $261,974
Houston: $260,958
Miami: $258,049
Charlotte, NC: $253,175
Phoenix: $252,783
"The cost of living varies greatly across the country, and what is considered wealthy in one city may barely make ends meet in another," the study says.
Dallas Press News – Latest News:
Dallas Local News || Fort Worth Local News | Texas State News || Crime and Safety News || National news || Business News || Health News